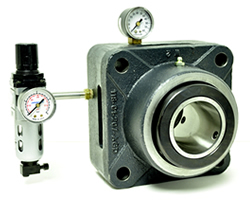 The "E-Seal" integrates HD series sealing technology with a heavy-duty tapered roller bearing.  This design enables engineers and purchasing departments to single source both Bearing and Seal requirements without sacrificing quality, strength or cost. 

Dura-Shield E-Seals are field serviceable! Each component is of the highest quality from the proprietary cast steel housing to the Timken bearing and heavy-duty air purged seal.  These parts have been selected based off their field tested performance, durability and most important dependability- making the Dura-Shield E-Seal your go-to solution.

A direct replacement for standard E-type and Spherical bearings.
Designed around CEMA compliance for Screw Conveyors installing your
Dura-Shield E Series is a snap!

• Operating Temperature Range: -60˚F to 350˚F
• Pressure Holding: 20 psig.
• Vacuum Holding: 10 hg.
• Air Purge Connection Start Pressure: 15 - 20 psig.
• Typical Air loss: 1.5 - 2 SCFM
• Torque setting for seal mounting: 50 ft.lbs
• Maximum Shaft Run Out: .250" TIR.
• Stuffing Box Misalignment: .015 TIR per inch of shaft
• Shaft Growth: ± 1/16"
• Shaft Tolerance: ± 1/16"
• Max. Out of Square Mounting Deviation: 1°
• Field Repairable: Yes
• Chemical Resistant Materials Available: Yes
• Standard Housing Material: Cast Steel w/coating
• Standard Elastomer Type: Silicone / EPDM
• Standard Bearing Thickness: 5.50"
• Maximum Shaft Speed: Variable by shaft diameter